Concerto of Blood
-OR-
A Brief History of The Quintessentials
© 2000-Present by L. Hernandez. Live photo by Nightfox Photo.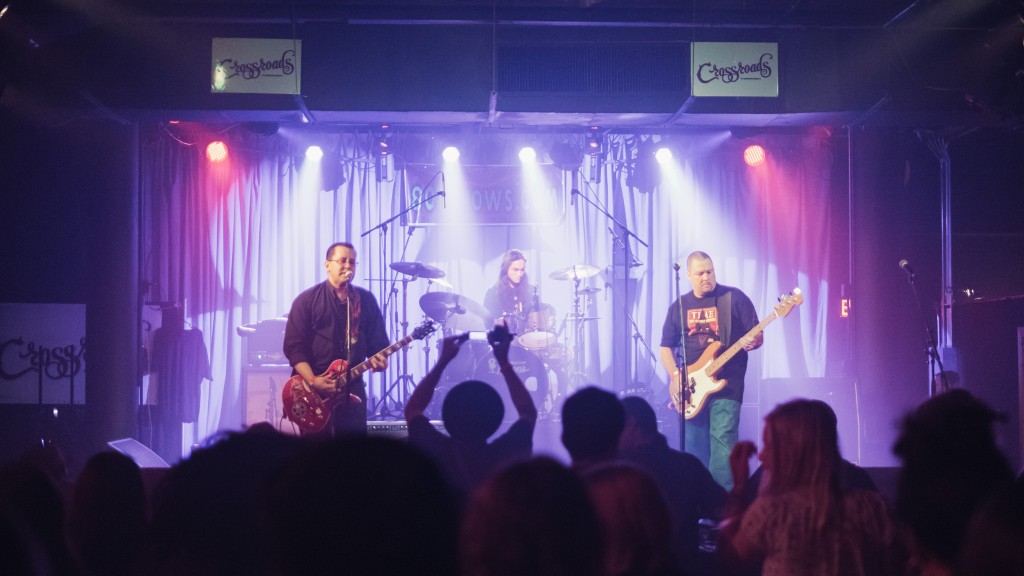 Ever since its conception, Rock'n'Roll has always been equated with youth, rebellion, carnal abandon, and, of course, the Devil. It has always been called
The Devil's Music.
Punk Rock is no exception. Many Punk Rock bands have come and gone here in Hawaii – some good, some not so good – but the best have always had most, if not all, of the elements listed above. Could it be that the Devil, the chief principle of rebellion and change, really
does
reward His own?
In 1998 C.E. (33 A.S.), unhappy with the line-up and of my band, The Catalogs, I had quite a stroke of luck. I was moving back to Hawaii from Seattle to start a band, possibly, with a guy named Mike Nelson, whom Justin, from The Catalogs, knew from being online. I didn't know what to expect and I'd never heard this guy play but "What have I got to lose?" I thought. That was six years ago as of this writing and although we've gone through many members I'm glad this band is still playing. We're The Quintessentials.
The current line-up of The Quintessentials is: Duane Franklin on bass and backing vocals; Jensen Aguinaldo on drums; and Rev. Les Hernandez on lead guitar, lead vocals, and everything else. Everyone sings backup. Musically, we're sort of in the same vein as the Ramones, Connie Dungs, Misfits, Vindictives, and Screeching Weasel, or at least that's what I hear traces of.
So what are The Quintessentials about? Are you prepared for the answer? Will you even comprehend it? Most don't.
First of all, keep in mind that I wanted to start a band called The Products since The Catalogs first started playing in mid-1993 C.E. Sort of a pun on band names. Catalogs sell Products – get it? Good. I've always loved horror stories/movies and wanted to put these ideas and visuals into music, but with a band that wouldn't be pigeonholed into the typical Metal genre.
In 1995 C.E. I formed a band called Crawling Chaos with my good friends, artist Mike Silva, Frank Guertler and Russ Tong, and we released a demo called, "Hail the Dark One!", which was later re-released as a 30 song demo split with the old Catalogs demo and some bonus tracks. Mike moved out-of-state and I, a bit later, did likewise–to Olympia, Washington–to reform The Catalogs and record a 7″ for Mutant Pop Records (Timbo finally got most of those 7″-ers to me 10 years later!). So, somewhere down the line I moved out of Olympia to Kirkland, but things weren't moving the way I wanted them to. I acquired a ticket to Hawaii and was off.
By now it was 1998 and Mike Nelson and I began talking about forming The Products.
Unfortunately, after playing as The Products for two years it came to my attention that there existed another band with the same name already releasing recordings. A change was in order so after some thought it came to me: The Quintessentials!
Lyrically and visually, we use symbol and metaphor rather heavily, which many so far seem to not quite understand. For those of you who don't get it: you probably never will. That's not my concern.
To date, The Quintessentials have played with such acts as Kepi Ghoulie, Toys That Kill, GBH, The Dwarves, Bratmobile, The Locust, Bad Religion, TSOL, Blink 182, Tsunami Bomb, L.A. Guns, Warsaw, Ill Repute, Fearless Vampire Killers, DieMonsterDie, Zombeast, Mental Hygiene, etc., and our album covers have been featured on the History Channel documentary Hell: the Devil's Domain. We currently have four full-length albums available: "The Horror Never Ends…," (18 tracks), "Pentagonal Revisionism" (20 tracks), and "Legends from the Grave" (18 tracks), and "Sarah Alice is DEAD!" (11 tracks listed plus 2 bonus tracks!), and one double-album, "Realm of the Great Old Ones" (2-discs, 36 tracks!).
So, now that you know what The Quintessentials are about, come see us play (look for flyers!) and buy our CDs!
Dig the music kids!
A Special Thanks to Former Members of The Quintessentials:
Kim Oshita, Alika, Dave Vierra, Erica Koch, Mike Nelson, Russ Jaralba, Dallas Sanders, John A. Snyder, Daniel Rodby, Danny Addis, Hernan Hell, Andy Nelson, Todd Niebling, Corvin Blacke, George Devita, Steve Gold, Steve Cook.